Posts for tag: sensitive teeth
By River Forest Dental Studio
October 14, 2019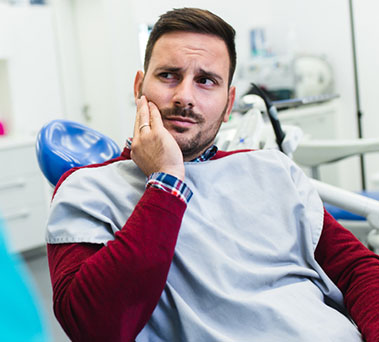 If you wince in pain while eating or drinking something hot or cold, you're not alone: tooth sensitivity afflicts one in three Americans. To understand what's possibly going on, let's look first at tooth anatomy.
Teeth are mainly composed of three layers: an outer protective enamel that covers the upper crown, a middle layer called dentin and an inner pulp. The dentin is composed of small tubules that transmit outer temperature and pressure sensations to nerves in the pulp.
The enamel serves as a "muffler," damping sensations to protect the nerves from overload. In the root area, the gums and a thin material called cementum covering the roots also help muffle sensation.
But sometimes teeth can lose this muffling effect and the nerves encounter the full brunt of the sensations. The most common reason is gum recession, usually caused by periodontal (gum) disease. The gums have shrunk back or "receded," and after a short while the cementum covering will also be lost, exposing the dentin in the root area.
Another problem is enamel erosion caused by mouth acid. Chronic high acidity, often caused by bacterial growth or acidic foods and beverages, can dissolve the enamel's mineral content, causing decay and exposure as well of the underlying dentin.
To avoid future tooth sensitivity, it pays to prevent these two dental problems. The most important thing you can do is practice daily brushing and flossing to reduce bacterial plaque and see your dentist regularly for dental cleanings and checkups.
But if you're already experiencing symptoms, you'll first need an accurate diagnosis of the cause. If it's related to gum disease, immediate treatment could help stop or even reverse any gum recession. To address enamel erosion, your dentist may be able to protect and strengthen your teeth with sealants and topical fluoride.
There are also things you and your dentist can do to reduce your symptoms. One is for you to use hygiene products with fluoride, which can take the edge off of sensitivity, or potassium, which helps reduce nerve activity. Your dentist can further reduce nerve sensitivity by blocking the tubules with sealants and bonding agents.
Tooth sensitivity is an irritating problem in itself; more importantly, though, it's often a warning of something else seriously wrong that needs attention. If you're feeling a little sensitive in the teeth, see your dentist as soon as possible.
If you would like more information on tooth sensitivity, please contact us or schedule an appointment for a consultation. You can also learn more about this topic by reading the Dear Doctor magazine article "Treatment of Tooth Sensitivity: Understanding Your Options."
By Dr. Hartmann D.D.S
May 06, 2012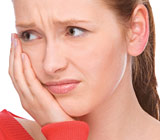 It can start with a simple twinge or be as severe as excruciating pain. From time to time, we have patients asking questions about tooth sensitivity — what causes it? What can be done about it? For these reasons, we have put together the following list of frequently asked questions (FAQs) so that you can develop a healthy understanding about this painful and often avoidable condition.
What is tooth sensitivity?
The first layer of protection of the teeth is enamel. Enamel is a dense crystalline structure, the hardest substance produced by animals. It is an inert substance that has no nerve supply and thus it protects the teeth from temperature and pressure changes. When it is compromised, worn thin, or exposed due to gum recession, it leaves the dentin exposed and vulnerable. Unlike enamel, dentin is living and has delicate nerve fibers within it.
What triggers tooth sensitivity?
Once dentin is exposed, it can become sensitive. It typically occurs when the dentin comes in contact with heat, cold, or the "double whammy" combination of both cold and sweets. Even the bristles of a soft toothbrush can irritate exposed dentin causing sensitivity and pain.
What can be done to minimize tooth sensitivity?
One of the simplest ways to minimize or prevent sensitivity is by teaching proper brushing techniques so that teeth are cleaned without causing either sensitivity or damage. Brushing too hard is a frequent culprit. Being overzealous can literally cause gum recession, leave dentin, and wear it away leaving it grooved. Another step to minimize sensitivity is to use a toothpaste containing fluoride. Fluoride increases the strength of tooth surfaces and thus makes teeth more resistant to attack by acids and sweets. If severe, we may need to apply a barrier to cover the sensitive areas. These barriers may range from concentrated fluoride varnishes to replacing lost tooth structure with filling materials.
Want to learn more?
To learn more about this topic, read the article "Sensitive Teeth." Or if you are suffering from this condition, please contact our office to schedule an appointment. During your appointment, we will conduct a thorough examination to ascertain what is causing your sensitivity as well as what we can do to treat and/or prevent future issues.
By Dr. Hartmann D.D.S
January 31, 2012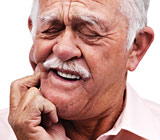 If you have ever suffered from tooth sensitivity, you know all too well how real the pain can be — anything from a slight twinge to pain that can be downright excruciating. Sensitivity may be experienced several times throughout the day or just every once in a while. However, as we say, a little knowledge can go a long way. And we can provide you with the know-how and steps to help minimize your tooth sensitivity.
One of the first steps we will take is to review your brushing habits, as an improper brushing technique can not only cause tooth sensitivity, but it also can make the sensitivity worse once it is present. We will teach you how to remove dental plaque safely without damaging your delicate gum tissues, which can cause gum recession leaving the dentin exposed. Another step we may take is to provide you with a special toothpaste containing fluoride or one specifically targeted to sensitive teeth. The fluoride increases the strength of tooth surfaces and thus makes teeth more resistant to acid attack and sensitive to sweets. Or if the sensitivity is severe and/or constant, we may need to apply a barrier to cover the sensitive areas. These barriers may range from concentrated fluoride varnishes to bonded filling materials to cover the sensitive areas. If the pain is severe and constant, it may be possible that the pulpal tissue containing the nerves in your tooth are inflamed and you may need a root canal treatment to relieve your pain and save the tooth.
If you are experiencing tooth sensitivity or have questions about this condition, please contact us to schedule an appointment. Or you can learn more about this topic by reading the article "Sensitive Teeth."