Posts for tag: clear aligners
By River Forest Dental Studio
July 01, 2018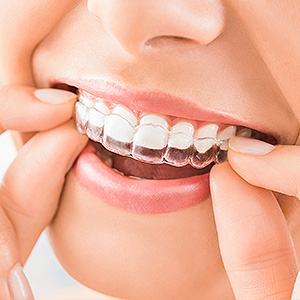 If your teenager is in need of orthodontic treatment, you might automatically think braces. But while this decades-old appliance is quite effective, it isn't the only "tooth movement" game in town any more. Clear aligners are another choice your teenager might find more appealing.
Clear aligners are a sequential set of computer-generated plastic trays that are worn by a patient one after the other, usually for about two weeks per tray. The trays are fabricated using 3-D computer modeling of the patient's mouth, each one slightly different from the last to gradually move teeth to the desired new positions.
So, why choose clear aligners over braces?
They're nearly invisible. Because they're made of a clear polymer material, they're not nearly as noticeable as metal braces. In fact, they may go completely unnoticed to the casual observer.
They're removable. Unlike metal braces, which are fixed in place by an orthodontist, clear aligners can be removed by the wearer. This makes brushing and flossing much easier, and they can also be removed for eating or special occasions. That said, though, they should be worn at least 20 to 22 hours each day to be effective.
They're becoming more versatile. With some complicated malocclusions (poor bites), braces and other orthodontic appliances may still be necessary. But innovations like added power ridges in clear aligners can more precisely control which teeth move and which don't. This has greatly increased the number of poor bite scenarios where we can appropriately use clear aligners.
If you'd like to consider clear aligners, just remember they require a bit more self-discipline on the part of the wearer than braces. And once the treatment finishes, they'll still need to wear a retainer just as with metal braces to help keep the repositioned teeth from reverting to their old positions.
If you think your teen is up to the challenge and their particular situation can be corrected with this innovative technology, then clear aligners could be a great choice.
If you would like more information on clear aligners orthodontic treatment, please contact us or schedule an appointment for a consultation. You can also learn more about this topic by reading the Dear Doctor magazine article "Clear Aligners for Teens."
By River Forest Dental Studio
November 08, 2016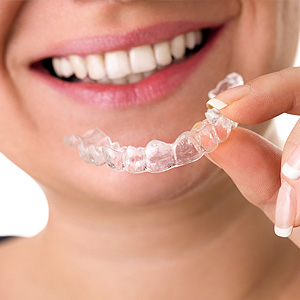 Braces can change a person's life — not just their appearance but their dental health as well. To be honest, though, wearing braces are, well, kind of a drag — especially for teenagers.
Braces can be restrictive and confining; you'll also have to give up certain favorite foods for a while. But more than any of that, they're just plain unattractive. Even being able to choose colors for the brackets and elastic bands can't fully ease a teenager's embarrassment when they smile.
There is, however, an alternative to braces: clear aligners. And they could make orthodontic treatment during this difficult phase of their life much easier to handle.
Clear aligners are a set of clear plastic trays that can be taken in and out of the mouth. Each of the custom-designed trays is slightly smaller than the previous one in the series. After wearing the first tray for a couple of weeks (at least 20 to 22 hours a day), the patient switches to the next tray in the series. They repeat this process until they've worn all the trays. The gradual change from tray to tray moves the teeth to the desired position.
Clear aligners have some distinct advantages over braces, especially for younger patients. They can be removed for cleaning or for a rare special event. They don't limit movement as much as braces. And, they're nearly invisible — other people may not even notice them. And newer aligners are now designed with tiny "power ridges" that increase their movement capabilities. This has made them more useful for teenagers with complicated bite problems and other issues.
There are cases, though, where braces may be the better choice: where you need more control over tooth movement or the patient needs jaw surgery to achieve proper tooth alignment. And their removability could be an issue if the patient won't leave them in their mouth for the necessary time each day.
To find out if clear aligners might be a viable option for your teenager, visit us for a complete orthodontic examination. We can then discuss your best option — clear aligners or braces — to achieve the most desirable outcome for your teenager.
If you would like more information on treating bite problems in teenagers with clear aligners, please contact us or schedule an appointment for a consultation. You can also learn more about this topic by reading the Dear Doctor magazine article "Clear Aligners for teens."
By River Forest Dental Studio
May 08, 2015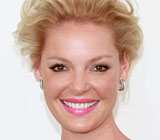 Many adults these days are opting for clear aligners to correct orthodontic problems that have long bothered them. Katherine Heigl is a perfect example. She had one tooth that was out of alignment, and wanted to have it fixed before her wedding day.
"I got them [clear aligners] because of this wonky tooth," Heigl told In Style magazine not long ago. "It's awesome because every two weeks you switch to a new retainer. Pretty much the perfect way to describe Invisalign is Netflix for your teeth."
That's actually a pretty good way to describe this highly user-friendly form of orthodontic treatment. Clear aligners are transparent, plastic oral appliances that are changed every two weeks so that your teeth can be moved a little bit at a time, according to a carefully staged sequence. Though they cover your teeth completely, clear aligners are barely noticeable.
In fact, when Heigl excused herself before taking out her aligners to eat, her In Style interviewer said, "Who knew you wore them? I guess that's the point of Invisalign."
Being able to remove the aligners for eating and, more importantly, teeth-cleaning, is another major advantage of this method of straightening teeth. Successful orthodontic treatment for adults depends on good periodontal health ("peri" – around; "odont" – tooth), and the best way to keep your gums and the underlying bone that supports your teeth healthy is to keep up an effective daily oral hygiene routine.
Clear aligners have been improved in recent years to correct more complicated malocclusions ("mal" – bad; "occlusion" – bite) than previously; they can even work well for teenagers. But there are still some cases that call for traditional braces. We would be happy to explore all the different options for orthodontic treatment with you, whether you have crowded teeth, an overbite or underbite, or just one "wonky tooth."
If you would like more information about clear aligners, please contact us or schedule an appointment for a consultation. You can also learn more about clear aligners in general by reading the Dear Doctor magazine article "Clear Aligners For Teenagers." Dear Doctor also has more on "Wedding Day Smiles."