Posts for: May, 2013
By Dr. Hartmann D.D.S
May 30, 2013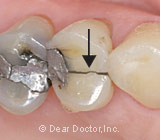 You may never have heard of cracked tooth syndrome. However, while it is often difficult to diagnose, this condition can be very serious, and it will be helpful to familiarize yourself with the symptoms.
Cracked tooth syndrome can be summed up in three phases: craze lines, cracks and fractures. Craze lines refer to miniscule cracks in the outer enamel surface of a tooth. While they do not cause immediate harm to the tooth, they can lead to true cracks in the enamel that actually penetrate the dentin.
This can lead to a fracture, where the crack extends deep into the tooth. The deeper the crack, the worse the symptoms. If the fracture exposes the pulp, the living tissue within the tooth, it must be treated immediately in order to save the tooth. Fractures are now the third leading cause of tooth loss. This increase may be the result of several factors, including longer life spans and higher stress levels that may lead to increased teeth clenching and grinding.
The complications surrounding the diagnosis of cracked tooth syndrome stem from the fact that symptoms vary, depending upon the location of the crack and what other structures are involved.
If you feel a sharp, intense pain for a short amount of time during chewing, then you likely have a crack in a "vital" tooth in which the nerve has not been affected. If a crack reaches the nerve, the pulp tissues housing that nerve will become inflamed and sensitive to temperature changes.
On the other hand, if you have a crack in a tooth without living pulp, the symptoms may be vague. It's often difficult to locate where the pain is coming from until the tissues around the teeth are affected. If a crack involves periodontal structures (gum, periodontal ligament and bone), symptoms may include tenderness around the tooth, in which case it will be easy to discern the affected tooth.
Finally, when a crack increases and becomes a true fracture, the symptoms strengthen. If located in the crown of the tooth, a piece of the tooth may come off, becoming quite sensitive to temperature change and sweet foods. If the crack is located in the root, you will experience pain of increasing intensity.
Keep in mind that early diagnosis is of utmost importance, so we will always conduct a thorough examination to check for signs and symptoms of cracked tooth syndrome. The earlier it is detected, the easier it will be to repair, so be sure to share with us any pain or discomfort that you have been experiencing.
If you would like more information about cracked tooth syndrome, please contact us or schedule an appointment for a consultation. You can also learn more by reading the Dear Doctor magazine article "Cracked Tooth Syndrome."
By Dr. Hartmann D.D.S
May 15, 2013
Clenching, or grinding of your teeth (also known as bruxing) are common habits. Biting forces are normally small, gentle, fleeting and very frequent throughout the day. In fact, it's the normal stimulus necessary to keep your teeth and jawbone healthy. When you clench or grind your teeth you apply forces up to ten times normal (in the 200 lb range). And it's not just the force, it's the duration and frequency with which they're applied. High forces lasting for seconds or minutes, frequently exerted, can affect some or all of the masticatory system. This includes the teeth, jaws, jaw joints and muscles, causing aching jaws, headaches, earaches, neck and even backaches; and the teeth themselves causing excessive wear, fractures, or even loose teeth.
Why does grinding occur? Habitual grinding is most frequently a reaction to stress. Sometimes abnormalities in your bite or malocclusion ("mal" – bad; "occlusion" – bite) can trigger clenching or grinding. It is normal for children to sometimes grind their teeth when new teeth are coming in, but it may be indications of stress too. You may be grinding your teeth subconsciously in your sleep, but it may be so loud as to awaken your sleeping partner. Or our office may be the first to suspect it during a dental exam because of the apparent signs of change to muscles, joints and teeth especially abnormal tooth wear.
What can be done about teeth grinding or bruxing? If you are symptomatic, having pain, muscle, joint or tooth soreness, the first step is to get you comfortable. Generally, a mild non-steroidal anti-inflammatory medication (aspirin, ibuprofen) and muscle relaxants will help in addition to moist heat and mild jaw exercises. Stress management is also helpful. To prevent further damage, we may recommend a bite guard made of wear-resistant plastic that fits over the biting surfaces of your upper teeth. These customized unobtrusive appliances when properly fitted and adjusted stop clenching and grinding activity, or at least the damage they can do. A bite guard can be worn day or night especially during stressful periods.
Contact us today to schedule an appointment to discuss your questions about stress and tooth grinding. You can also learn more by reading the Dear Doctor magazine article "Stress & Tooth Habits."