Posts for: February, 2012
By Dr. Hartmann D.D.S
February 16, 2012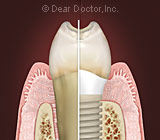 How much do you know about dental implants? Test yourself with this quiz.
Earliest recorded attempts at using dental implants were from

Medieval England
The ancient Mayans
U.S.A. in the 1950s

Dental implants are called endosseous. What does this mean?

They fuse with the bone
They are inside the mouth
They are not real teeth

What are most dental implants made of?

Aluminum
Titanium
Steel

What part of the tooth does an implant replace?

The implant is the root replacement
The implant is the root plus the crown
The implant is the crown

What is the success rate of dental implants?

50 percent or less
75 percent
95 percent or more

What could cause an implant to fail?

Smoking or drug use
Poor bone quality and quantity at the implant site
Both of the above

What is a tooth's emergence profile?

The implant and crown's shape as it emerges from beneath the gum line
A measure of the urgency of the tooth replacement
A measure of the time it takes for you to be able to chew on the new implant

What are some of the factors that go into the aesthetics of designing the crown?

Choice of materials
Color matching
Both of the above
Answers:
b. The concept of dental implants goes back to the Mayan civilization in 600 AD.
a. The word endosseous (from endo meaning within and osseo meaning bone) refers to the implant's ability to fuse with or integrate with the bone in which it is placed.
b. Most implants are made of a titanium alloy, a metallic substance that is not rejected by the body and is able to fuse with the bone.
a. The term "implant" refers to the root replacement, which is anchored in the gum and bone. A crown is put around the implant where it emerges from the gumline.
c. The majority of studies have shown long term success rates of over 95 percent.
c. Factors that could cause an implant to fail include general health concerns such as smoking and drug use, osteoporosis, or a compromised immune system; poor bone quality or quantity; and poor maintenance such as lack of proper brushing and flossing.
a. The emergence profile has a lot to do with the implant's natural appearance. It involves the way the crown, which attaches to the implant, seemingly emerges through the gum tissue like a natural tooth.
c. Choices such as materials, color, and position can be worked out in the design of a customized temporary crown, which acts as a template or blueprint for a final crown.
Contact us today to schedule an appointment to discuss your questions about dental implants. You can also learn more by reading the Dear Doctor magazine article "Matching Teeth & Implants."
By Dr. Hartmann D.D.S
February 08, 2012
Recent research has revealed a relationship between overall general health and proper care for your dentures. The evidence shows that oral bacteria have been implicated in bacterial endocarditis ("endo" – inside; "card" – heart), chronic obstructive pulmonary (lung) disease, generalized infections of the respiratory tract and other systemic diseases. This proves what you might not suspect — you need to pay attention to the care of your dentures to achieve optimal health. For this reason, we have put together this list of five great tips for caring for your dentures.
Daily cleaning at home: It is critical that you thoroughly remove the bacterial biofilm in your mouth and on your dentures. This one tip alone will help minimize the likelihood of your developing inflammation (denture stomatitis) under your dentures.
Don't boil your dentures: While cleaning is important, you should NEVER place your dentures into boiling water because it can damage and warp them.
Don't wear your dentures 24/7: To help reduce or minimize denture stomatitis, you really should not wear your dentures 24/7. It is important to thoroughly clean them each night along with your mouth (as noted above), and then leave them out while you sleep. This will also slow down the bone loss that naturally occurs from the pressure caused by wearing dentures.
Always store your dentures immersed in water: This tip is so important because it helps prevent your dentures from warping. And do not forget to change the water each day, as well as to clean the container in which you store them.
Annual professional cleaning: Even though you may do an excellent job cleaning your teeth at home, you still need to come to our offices at least once a year for an examination, fit and function check, as well as a professional cleaning. During this cleaning, we will use our ultrasonic cleaners to minimize the biofilm that accumulates over time.
To learn more tips, continue reading the Dear Doctor magazine article "Top Ten Tips For Denture Care & Maintenance." Or you can contact us today to schedule an appointment to discuss your questions.